Statement of the Problem we Address
Twenty-five percent of school children have vision issues that impact learning according to the Washington Board of Health4. Vision issues may include high refractive errors, amblyopia, strabismus, ocular health, and near vision dysfunctions such as convergence insufficiency. Ideally, the first four categories are identified early in the birth to five age through regular well-child pediatric visits and eye exam referrals. School vision screenings can function as a backup if vision issues are missed early on. The last category - near vision dysfunction - generally emerges as a child encounters the extensive vision demands of academics. School screening should be sensitive for this condition. Furthermore, an effective screening should be connected to an established and evidence based intervention. Research at the EYE Center revolves around questions concerning near vision function, and effective treatment protocols that are accessible and economical. Such research must be applied and proven within communities of need. Thus, it is essential that the EYE Center delivers services to children in order to measure results and iteratively improve systems of screenings, evaluations, and interventions.
The Big Picture: How we intend to address the problem
We visualize the EYE Center involving four pillars supporting a comprehensive research activity system that fosters an agile and iterative cycle of public knowledge generation towards more effective solutions. And we prove the solutions viable in real world contexts. The pillars are an emphasis on education, research, tools, and services.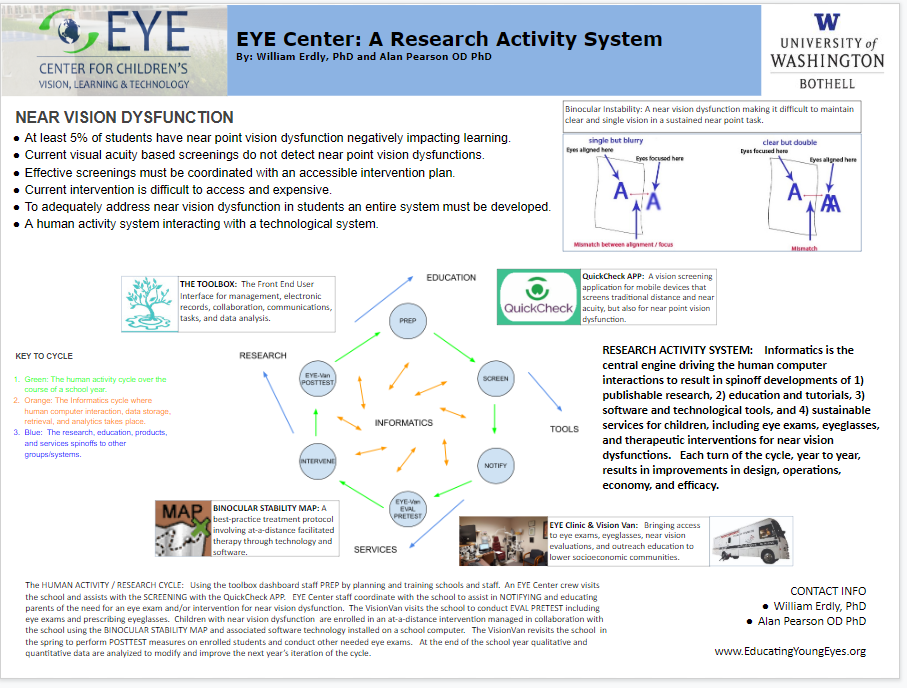 The EYE Center's position is that to effectively address the challenge of near vision dysfunction, an entire system must be developed. It is not enough to create a new test, treatment, or technology alone. The system must address human activity, as well as technological innovation. And the system must demonstrate its effectiveness through publishable evidence, and improve its effectiveness through an agile and iterative process. Our mission revolves around progressively formalizing such a system through related goals of education, service, research, and tools development.
Education: We aim to provide education to university students as well as education to patients, parents, care givers, providers, professionals, and legislators concerning the importance of vision in the quality of life and productive achievement. Education may entail diverse media publications, conferences, meetings, and tutorials. It will also involve courses and professional certifications.
Service: We aim to provide direct service to children. This includes: vision screenings at schools/clinics with our QuickCheck app; eye exams through the EYE See Clinic; access to eyeglasses when needed; referral and coordination of care for specialized eye health issues; and an effective and economical intervention protocol for near vision dysfunctions that can be facilitated remotely through our EYE Toolbox and Binocular Stability MAP developments.
Research: We aim to accomplish these goals in the context of the university's research mission, thus we will be approaching these projects with clear direction, institutional review, data gathering, and analysis for the purpose of contributing to public knowledge through presentation, training and publication. Our systems and models will be available for other groups to study, replicate, or adapt to their situations.
Tools: We develop software, hardware, and intellectual property assets. We coordinate, collaborate, sell, and license our developments to individuals and companies.
Accomplishments to Date:
The EYE Center has developed prototypes of the following necessary technologies in preparation for providing services through the EYE Center. Currently, these include:
QuickCheck App: a vision screening software application that meets the mandated minimum WA State standards and includes a symptom survey for near vision dysfunctions.
EYE Toolbox App: a HIPAA/FERPA-compliant backend database and dashboard user interface for electronic records, task management, communications, remote collaborations, patient portal, and provider education.
Binocular Stability MAP: a best practices intervention protocol for common near vision disorders that can be facilitated remotely in a collaborative fashion.
Receipt of grant funds to build a mobile vision clinic, an essential component of the EYE See Clinic services, as well as an operating private practice prototype vision clinic in Bothell with equipment and procedures ready to import to the EYE Center.